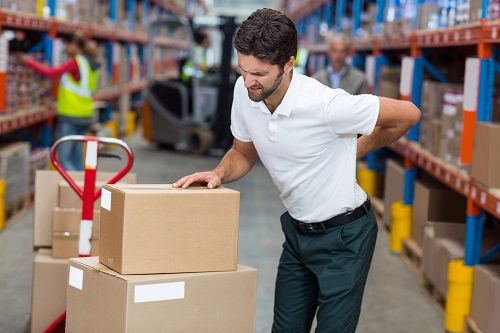 Contrary to what most safety trainers will tell you, not all employees need to complete manual handling training. To decide who needs manual handling, the employer must first look at the definition of manual handling which states "manual handling is any transporting or supporting of a load by one or more employees which may include lifting, putting down, pushing, pulling or carrying a load which by reasons of its characteristics or unfavourable ergonomic conditions involves risk, particularly back injury to employees.
The key terms are ergonomic conditions and characteristics of the load, and they must be likely to cause injury to the employee, particularly to the back.
If the employee is not at risk of injury from manual handling well, then they don't necessarily need to attend training. However, they should be made aware of what is considered manual handling and the employer should write policies indicating to the employee what they should and should not lift. So in theory, they should attend awareness training so they understand the dangers of hazardous lifting and understand when and how to identify what is considered as a load which is likely to cause injury.
However, they don't need to attend a full manual handling class.
Let's have a look at what is considered manual handling and what isn't.
Let's take a 10 kg ream of photocopy paper, which is stored on the bottom shelf in a confined cupboard, the characteristics of the load which is heavy and the ergonomic conditions which include a confined area and the lower shelf, make this lift hazardous to the back; therefore it is considered as manual handling.
However, let's say the stationary delivery company unpack the reams of paper and place them onto a shelf located at mid-range. Now the load is a 1 kg pack which is accessed at mid-range with no need to bend or stoop in this situation, there is no real risk of a manual handling injury, particularly to the back; therefore this activity would not be classified as manual handling.
One important thing to note about manual handling training is that manual handling training should not be a solution to manual handling hazards, the employers first legal responsibility is to avoid the need to lift where possible with the introduction of machinery or lifting equipment. When an employer cannot avoid the need to lift, they must reduce the risk of back injury by using organisational measures and designing workstations in such a way as to minimise the risk of manual handling injury. After this is completed, It is then that manual handling becomes a legal requirement.
The legislation that covers manual handling is "Chapter 5 of part 2, Regulation 68 and 69 of the General Application Regulations 2007". This legislation defines with manual handling is and places a requirement on employers to take a preventative approach to manual handling. Schedule three of the regulations, instructing employer to take other considerations into account such as physical capabilities of the employee, the environmental factors, the characteristics of the load and the requirements of the task. The phrase manual handling training does not exist in the legislation. The schedule states that an employee may be at risk of injury if they have not received suitable instruction or training; this can be assumed to mean manual handling training. Section 10 of the "Safety health and welfare at work act 2005" places a requirement on employers to provide training on matters of health and safety to their employees, this can be interpreted as meaning employees must receive manual handling training.

Author: Jason Kearns
Check out our manual handling courses